Thriving In Midst of Change
Learn how to finally STOP FIGHTING the changes in your life
Get ready to "MAGICALLY" TRANSFORM chaos, catastrophe and overwhelm into exciting POSSIBILITIES
Experience GROWTH And NEW BEGINNINGS
Every day you're hit with change...
Your boss throws you a surprise retirement send off
Your grandkids get sick
Your friends change your lunch plans…it NEVER stops.
And other times the change you experience is HUGE…
Your loved ones pass away
The economy shifts and your savings disappear
Or you're sideswiped on the freeway by a careless driver...
Change is even more overwhelming when you are feeling disconnected from your own inner guidance system. When your relationship with yourself is derailed, the stresses of change are going to take a heavy toll.
I know it sounds alarming, but it's true. Change is ALWAYS happening, and you can't always plan for it. But what you can do…what you MUST do if you're going to live a life of happiness and contentment…is learn HOW TO HANDLE the change that comes your way.
You are invited to a FREE Webinar. INTRODUCING…

Register Now
CLICK THE BEST DATE AND TIME BELOW TO SIGN UP FOR YOUR FREE 90 MINUTE TRAINING
October 5th, 2017 at 8:00 pm ET
October 7th, 2017 at 12:00 pm ET
October 9th, 2017 at 5:00 pm ET
October 10th, 2017 at 1:00 pm ET
You don't have to be a spiritual leader, best-selling author or "guru" to deal well with change. All you need is a subtle shift in perspective and a little training…but unfortunately, most people never recognize this, and thus most people resist, fight and are overwhelmed by change. You don't have to be one of those people.
You can start dealing well with change NOW, and handle life's everyday transitions with grace and ease…which sure beats the alternative. After all, when you let change bowl you over, you not only have to eventually deal with the change, but also have to deal with the effects of YOUR STRESS from the change…which can sometimes extend far beyond your own life, and into the lives of others.
Who needs THAT???
THRIVING IN THE MIDST OF CHANGE IS HERE TO HELP!
In this transformational training, you'll discover…
How to reshape your perspectives to better handle change…
Secret tricks to transform internal chaos into motivational inspiration…
How to embrace new changes and challenges, and use them to your advantage…
Winning strategies to STOP RESISTING change and flow with grace and ease…
How to INSTANTLY adopt new perspectives that give you the upper hand in any situation…
And much, much more…
You see, it's really not that bad…
In fact, change is often a sign of exciting new possibilities and new opportunities. Sometimes things have to fall apart so that better things can fall together. Once you choose to flow graciously through the various phases of change, you begin to simply "experience" each step, leading to enjoyment, rather than resistance, fighting and stress.
Fortunately for you, there are simple strategies that exist to help you embrace these new beginnings and move through the process of change with much more peace and calmness.
There are many internal processes, often overlooked when major (or minor) change occurs. By dealing directly with these "inner workings," you can greatly improve your chances of success in times of transition.
Think of Thriving in the Midst of Change as a complete "systems upgrade" that will leave you re-programmed and better able to handle life's little (and big) ups and downs.
Here is a brief sampling of what we'll cover during the training…
Your Reaction to Change
We will examine how you commonly react to change, and explore a variety of empowering alternatives.
The Importance of Change
You would never experience any kind of change if it wasn't vital to your very existence. During the call, you will realize why change is so necessary to your life.
Seeing Change Differently
Even though the experience of change can be difficult at times, the results are often extremely positive. With a few simple shifts, you can adopt an exciting new perspective on change.
Accepting Change
Change has the power to show us just how possible it is for you to have a richer, vastly more fulfilling life…if you can accept it. Utilizing powerful secrets and technologies, you will come to a deep, relaxing place of acceptance around your ever-present life transitions.
As I said, this is a power-packed, content rich webinar, and it's full of insights, inspirations and tools that you'll use for the rest of your life. I know it will be worth your time!
Here is what a few others say about learning from me:
Marnie is a calm, organized facilitator who is able to elicit participation in an easy, effortless way. Denise Kaku, Kaku Consulting.
Marnie has great energy as a facilitator, she knows her material and her confident presentation style helps participants to relax and enjoy learning. I look forward to Marnie's presentations and always take away something of value. Marie M. Loeffler, Speaker-Trainer-Coach.
OH, and one more thing…IT'S F*REE*.
That's right…this entire training is yours to attend absolutely FREE, as my gift to you.
Don't waste another second of unnecessary stress. You have far more important things to concern yourself with, and the people around you are counting on you to step up and be the calm, composed center of their world.
Register NOW, before you miss out on another moment of peace.

Register Now
CLICK THE BEST DATE AND TIME BELOW TO SIGN UP FOR YOUR FREE TRAINING
October 5th, 2017 at 8:00 pm ET
October 7th, 2017 at 12:00 pm ET
October 9th, 2017 at 5:00 pm ET
October 10th, 2017 at 1:00 pm ET
Space on this call is limited (it is INTERACTIVE, after all).
Register now before someone else grabs your spot…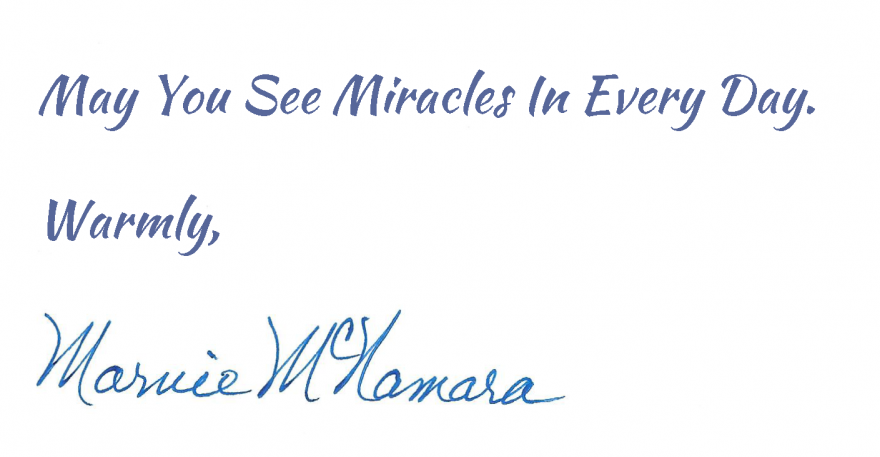 Marnie McNamara, CMC, ACC
Primary Relationship Coaching
Marnie@PrimaryRelationship.com
Schedule with Marnie
P.S. If there's someone in your life who could benefit from this training, by all means, SEND THEM THIS LINK.